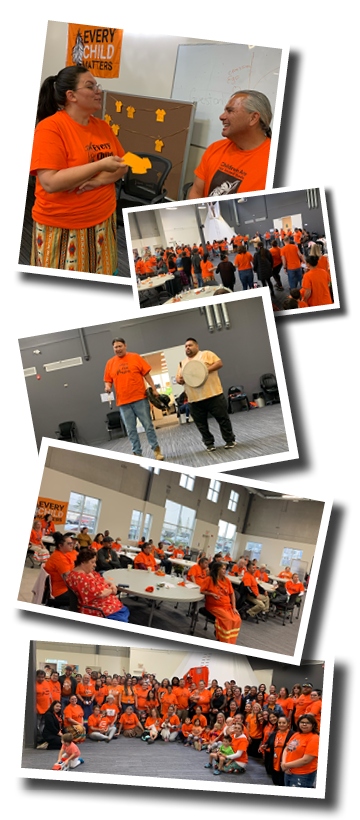 Bringing Them Home
September 26 - 29, 2023
In honor of National Day for Truth and Reconciliation in Canada, Miskanawah will host a 4-day sacred fire at our Land-based healing location, beginning on September 26, 2023 and ending on September 29, 2023.

Bringing Them Home
is a dedicated event to honor and take care of our Elders, the survivors, and the children who never made it home.
Bringing Them Home
recognizes the child within our survivors, who also never made it home, and were disconnected from their home communities, traditional teachings, language, culture, families and way of life.
Bringing Them Home
will honor and support intergenerational healing for survivors of residential schools, their families and the children who never made it home, through intentional time together in ceremony, activities and traditional feasts.
Bringing Them Home
invites our Elders and survivors within Miskanawah's community network to participate in collective healing, hosted by Miskanawah. Embodying
Wahkotiwin
(Cree Natural Law of interconnection and kinship), connecting our Elders, survivors and the spirits of those who never made it home to the land and sacred fire is at the
heart of this offering
.
In the spirit of Reconciliation, Miskanawah invites our community partners and relatives of all backgrounds to contribute to Bringing Them Home by way of donation and/or community engagement and volunteerism. Helpers, witnesses and supporters will be impacted through the principle of reciprocity, bringing forth a collective healing. Please consider how you, your agency and team members can come together to provide the acknowledgement and supports to healing, that our Elders gift to community each day.
Miskanawah welcomes community contributions to Bringing Them Home in the following ways:
DONATE
- Miskanawah invites community
donations
, in honor of Truth and Reconciliation. Every dollar makes a difference in how we can give back to our Elders and community!
BECOME A SPONSOR
- Find out more about how your agency can sponsor this event by contacting Miskanawah's Fund Development Manager, Tara Fillo-Hunt at:
tfillo@miskanawah.ca
BECOME A HELPER
- If you are interested in becoming a helper or volunteering your time or talents in support of our Elders and community, please connect with Miskanawah's Cultural Impact Evaluator, Amber Ward at:
award@miskanawah.ca