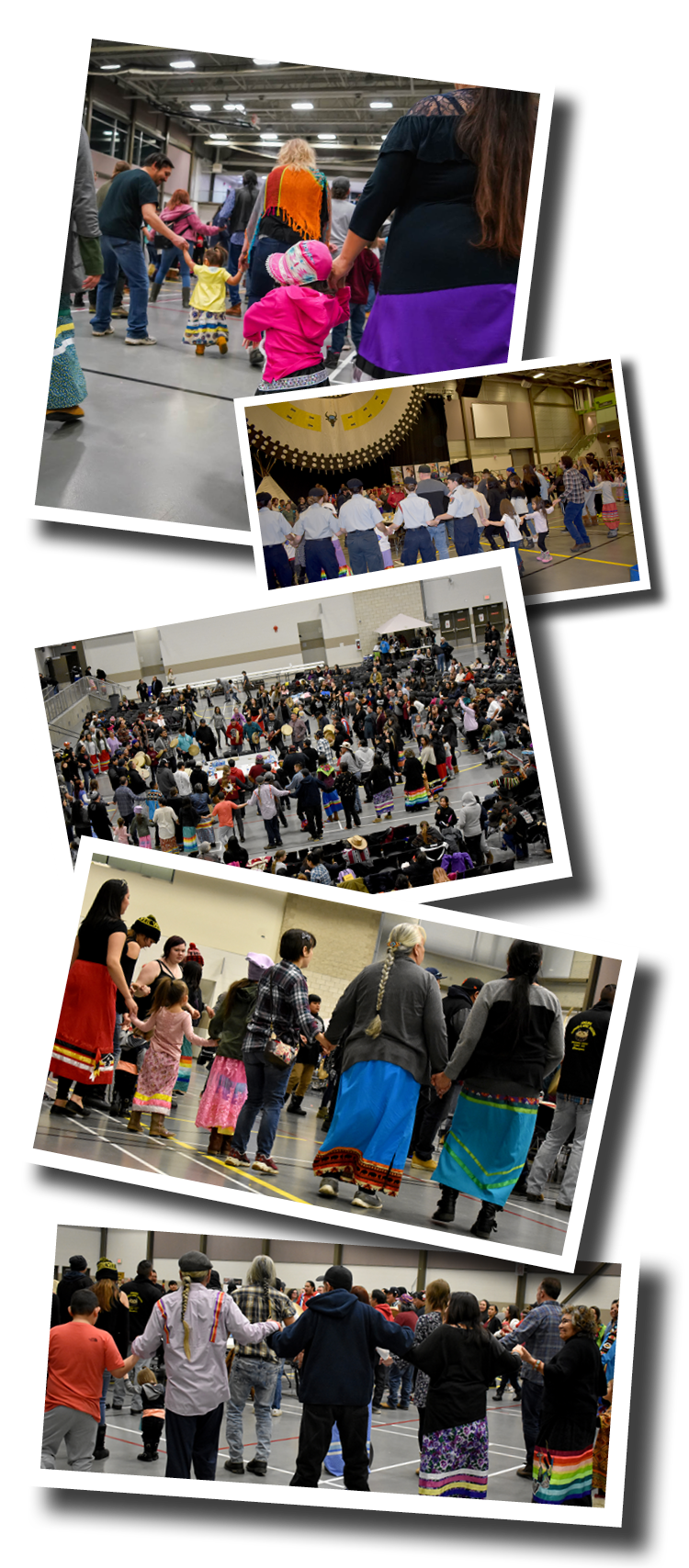 Join us in-person for our
17th Annual Friendship Round Dance!
Saturday, February 25, 2023 | 5:00-10:00PM
Genesis Centre: 7555 Falconridge Blvd NE #10, Calgary, AB

MISKANAWAH'S ANNUAL ROUND DANCE TRADITION
For the past 16 years, Miskanawah has hosted an annual Round Dance and it has since become the largest Round Dance in Southern Alberta! A Round Dance is an Indigenous social gathering that extends a welcoming invitation to everyone in a celebration of friendship, diversity, and inclusivity. Traditionally held during the colder months, this event encourages both our Indigenous and non-Indigenous relatives within Treaty 7 territory and beyond to learn, connect, and engage with Elders, traditional Knowledge Keepers, and community members in an evening of singing, drumming, and dancing.

Emcee:
Hal Eagletail, Tsuu T'ina & Daniel "Moss" Wildman
Stickman:
Lyle Tootoosis, Poundmaker, Sask. & Albert Goulet, Calgary, AB
Singing & Drumming: TBA
Special Pre-recorded Guest:

War Paint Lead Singer, Kaya Littleturtle, North Carolina, USA



Check out some highlights from past Round Dances: 2020 Round Dance
---
We are grateful to our community partners, donors and sponsors for supporting this event:
(Bear Sponsor)
---
(Wolf Sponsor)
---
---
Sponsorship Opportunity!

Are you or your organization interested in partnering with Miskanawah to deliver our 17th Annual Round Dance? Please contact Tara Fillo for more details, OR if you would like to make a donation to this event, click here

.




The success of the event was a result of collaboration and partnerships formed between Miskanawah staff, community members, businesses, organizations, local First Nations artists, volunteers, and our major sponsor, United Way. It's thanks to everyone's hard work and dedication that we are able to bring thousands of people from all communities and backgrounds together to celebrate friendships, family, diversity, inclusivity, and community.